Butter oil. Ghee. Clarified butter. What's the difference? All are oils extracted from milk fat, but they each have their own advantages and differences…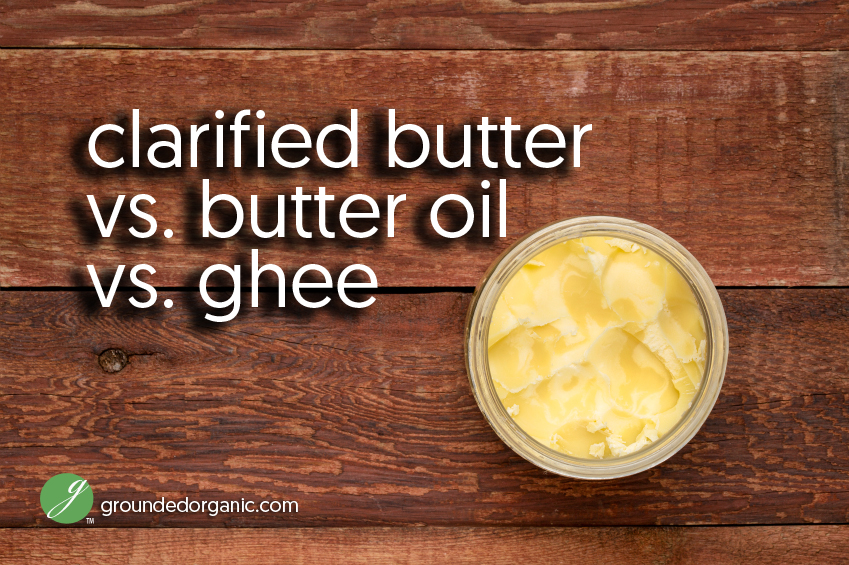 Clarified Butter
You might think that butter is all fat, when in fact, it's a more complex substance, containing small amount of water, proteins, and milk sugars like lactose. These proteins and sugars are called milk solids. Clarified butter is simmered at a low heat to evaporate all of the water and then strained to removed the milk solids. Without the milk solids and water, the clarified butter now has a longer shelf life than regular butter. With the milk solids removed, it can be used as a cooking oil (whereas with regular butter the milk solids start to burn and turn brown after a few minutes of heating).
Ghee
Ghee is a type of clarified butter and goes through the same process, however, the simmering process is longer, sometimes as long as 12 hours. The extensive simmering caramelizes the milk solids in the process, and, even though they are strained out afterwards, they impart a nutty flavor to the remaining oil. Traditional ghee is also sometimes made with cultured butter, thus adding more complexity of flavor. It can also be traditionally made from buffalo milk.
High-Vitamin Butter oil
Butter oil is also a clarified butter but it is created in a completely different manner. To remove the milk solids and water, instead of being heated and simmered, it is run through a centrifuge and filter, which separates the oil directly from the cream. This means a number of differences butter oil has from other clarified butters. First, the oil isn't heated, thus retaining its low-chain fatty acids, Wulzen Factor, butyric acid, and vitamin content. Also, clarified butter and ghee, while the milk solids are strained out, there can be trace amounts remaining in the oil. With butter oil, because of the advanced filtering process, it's a purer oil and appropriate for most people with lactose intolerance. (Consult your healthcare professional.) Additionally, because it lacks these solids, butter oil has a longer shelf-life than ghee or other clarified butters.
While clarified butter and ghee have their own culinary uses, properly prepared, grass-fed, high-vitamin butter oil is more of a nutritional supplement than a cooking oil, containing vitamin A, E & K, Wulzen Factor, and, omega-3s, and conjugated linoleic acid (CLA.) It can also be used on skin as a moisturizer in the same way you would use coconut oil.