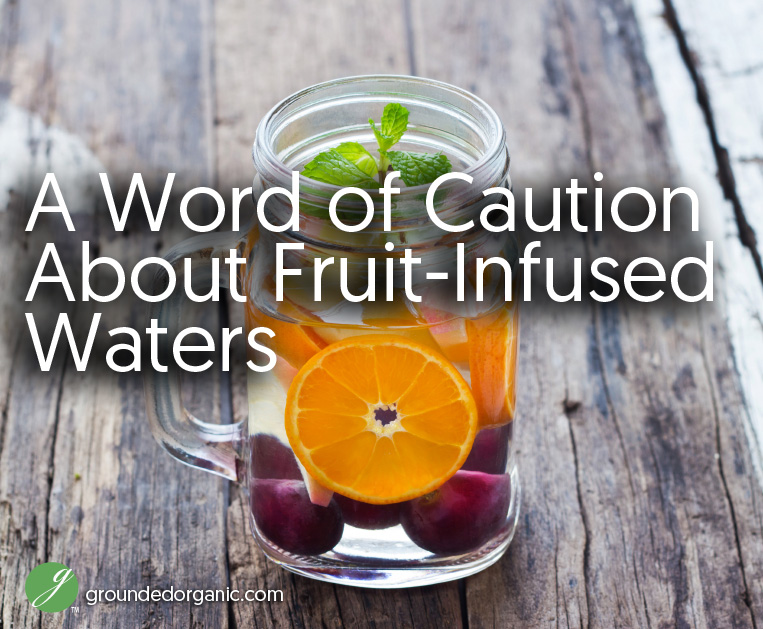 Fruit-infused waters have taken the internet by storm in recent years. Followers of healthy living will see recipes and ideas all over Pinterest, Instagram and the blogosphere. Fruit-infused waters are a great way to drink more water and stay hydrated, and potentially get some antioxidants in to your system. (Just eating the fruit is better because you get all of the nutrients plus fiber.) They taste good, look beautiful, and are just so refreshing. But, there are a couple words of caution when making and drinking them.
Tooth Decay
Many variations of fruit-infused waters use citrus fruits. I made a lovely blood orange and sage water just the other day and it was gorgeous. But, one problem is that citrus fruits are pretty acidic. Drinking a citrus-fruit infused water all day may wear the enamel of your teeth and potentially lead to tooth sensitivity or cavities. Having some now and then isn't a problem, as the teeth are able to remineralize themselves. However, drinking citrus waters all day, every day, could lead to some serious demineralization. Combine your citrus with other sugar-heavy fruits and you have a perfect storm for tooth decay.
Tip: If you're drinking citrus waters, after you've finished, or throughout the day, swish with baking soda water to re-alkalize your mouth and make it in an optimal state for remineralization. Use roughly 1 teaspoon of baking soda to a cup of water.
Bacterial Growth
There are special carafes that are made just for fruit-infused waters. If you're taking your fruit water on-the-go in one of these, make sure that you either keep it refrigerated or drink it within 4 hours. Fruits all have a small amount of bacteria on them naturally–add them to water and the sugar in the fruit and you could end up with bacterial growth that could make you sick. Fruit water at room temperature should be replaced, fruit and, all, after 4 hours to keep it safe. Also be sure to thoroughly wash your fruits before slicing them for your drink.
Happy infusing!